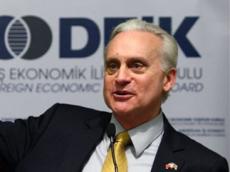 The U.S. Ambassador to Turkey is set to visit the Turkish Foreign Ministry following a recent attack on the U.S. Embassy in Ankara, local media reported Feb.7.
The visit was requested by the American side. "We have a regular contact with the Turkish government. There is no extraordinary situation in our contact with the Turkish Foreign Ministry," a statement issued by the U.S. embassy read.
U.S. Ambassador to Ankara Francis Ricciardone, who briefed Ankara reporters Feb. 5 after a suicide attack targeting the embassy building that killed two people Feb. 1, criticized the long detention of army officers, scholars and students in Turkey.
"You have your military leaders, who were entrusted with the protection of this country behind bars as if they were terrorists... When a legal system produces such results and confuses people like that for terrorists, it makes it hard for American and European courts to match up," Ricciardone had said.
Responding to Ricciardone's remarks, the ruling Justice and Development Party (AKP) Deputy Head Hüseyin Çelik noted that the U.S. envoy had in the past also commented about internal issues in Turkey, emphasizing that it was unappropriate for a foreign diplomat to make judgments about "topics that he does not know the details of."


/Hurriyet/