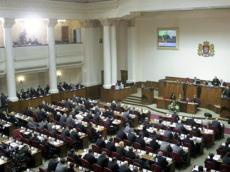 Georgian parliament on Wednesday passed the political debate on constitutional amendments. They suggest limiting the rights and powers of the President of Georgia and the amendment, which involves the return of the parliament in Tbilisi from Kutaisi.
Parliamentary majority required from the minority to explain why they support "dictatorial and comprehensive" law of the president and do not want to give power to the people-elected parliament.
Meanwhile, the parliamentary minority stated that these restrictions take effect immediately after the presidential election in October 2013, and so called not to force this issue, as after that Georgia is a parliamentary republic with a limited right of the President, and the more that Mikheil Saakashvili intends to dissolve the parliament and the government, to create a provisional government and call new parliamentary elections.
"The parliamentary minority is ready to support amendments if the Constitution will guarantee consistent foreign policy of the country," - said in a debate minority MP Zurab Japaridze.
"Majority asks us to support the constitutional amendment. We will offer you a very specific proposal and say, if this is a question for you and Bidzina Ivanishvili has some irrational threat, we agree to support these amendments, but for us there are more important fears that are associated with the foreign country. So, if you want, we will agree to support the amendment, only if you accept the fact that the country's foreign policy has been fixed in the Constitution, "- said Japaridze.
He also said that the Prime Minister himself said that the people of Georgia have chosen the country's foreign policy.
"Yes, the Georgian people made a choice, and if that is no problem, let's fix it in the Constitution, and we'll agree to support your leadership on this important issue. Why do we doubt? You can see an interview with the prime minister of the Armenian radio Liberty, where he said that Georgia should follow the example of Armenia ", - said Zurab Japaridze.
MP from minority Tariel Lonandaridze said about the pressure on him and his associates. "I do not support this constitutional amendment on the grounds that my protest caused the first statement of Bidzina Ivanishvili, when he threatened me personally, and not only me, but the whole faction. I'm a member of the committee that reviewed these constitutional amendments. It was during discussion, when the prosecutor's office questioned for me in connection with my work at the Ministry of Defence. Based on this, I legitimately doubt here,"- said Londaridze.

/Trend/