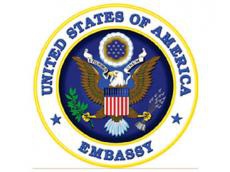 The U.S. Embassy in Turkey will today resume its work following the explosion that took place last Friday at the entrance of the building, Anadolu Agency reported on Monday.
In this regard, the Embassy released information, which encourages its citizens in Turkey, to be vigilant and cautious.
The explosion took place on Feb.1 at the service entrance of the U.S. Embassy in Ankara. As a result a security guard of the embassy died, and a visitor was injured. Perpetrator of the explosion - a member of the Marxist terrorist group Revolutionary People's Liberation Party-Front," Ecevit Sanli also died.

/Trend/