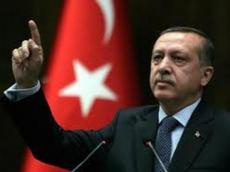 Turkey's goal in the fight against terrorism is the final laying down of weapons by terrorist Kurdistan Workers' Party and leaving of the country's territory by its members, Turkish Prime Minister Recep Tayyip Erdogan said during his visit to Niger, TRT Haber TV channel reported on Wednesday.
He said Turkey will do its best to resolve the terrorism problem in the country, despite the sabotage of these efforts by the PKK.
At the same time, Erdogan said it is also important for Turkey to address the terrorism problem with minimal casualties from both sides.
The Turkish army resumed military operations against the PKK militants after they became active again.
Over 10 months Turkish security forces have rendered harmless 716 PKK militants, including 496 terrorists who were killed, 21 wounded and 44 arrested and 155 surrendering to the authorities.
During this period, the security forces have held six large scale and 19 local operations against militants.
The conflict between Turkey and the PKK has lasted for over 25 years. The PKK is recognised as a terrorist organisation by both the UN and the EU.
/
Trend
/