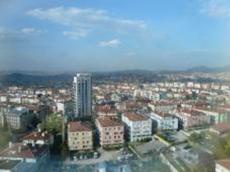 Ankara used its international law by detaining the Syrian airliner, carrying the load, which did not meet the requirements of civil aviation, Turkish Minister of Transport and Communications Binali Yildirim was quoted by TV channel TRT Haber as saying.
The minister said that Turkey will continue to be based on international law in case of suspicions about the cargo on the Syrian planes' board.
Local media reported about the fact that Turkish fighters forced Syrian airliner Airbus A-320 (SRY442) to land in the Turkish territory.
Turkish Foreign Minister Ahmet Davutoglu said that the information has been disseminated that there is the cargo on the aircraft board which does not meet the requirements of civil aviation. Therefore, the actions envisaged by the existing legislation and international law, are being conducted.
He also stressed that the incident with the Syrian aircraft will not negatively impact on Turkey's relations with Russia.
/
Trend
/