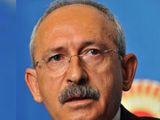 Turkey should refrain from military actions against Syria in order not to harm the tourism industry, leader of the major opposition force in the country - the Republican People's Party (CHP), Kemal Kilicdaroglu believes.
As the Zaman newspaper reporetd on Wednesday, according to Kilicdaroglu, Turkey should pay more attention to the development of tourism.
Tourism in Turkey is one of the two main sources of revenues. One source is export, the second - tourism. Last year, revenues from exports hit $134.9 billion, tourism revenues - $23 billion.
At least 5 people were killed in Sanl?urfa province on Oct.3, when a mortar exploded in the town center. Syrian side has repeated similar attacks several times.
Last week Turkish parliament approved issuing a mandate for cross-border military operations against Syria in response to the shelling of the Turkish city of Sanl?urfa by the Syrian army.
Ankara states that such measures are taken to prevent further provocations of Syria, and start of an armed conflict is out of the question.
/
Trend
/