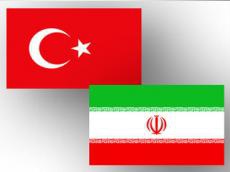 Iranian delegation which is on the visit to Turkey, has discussed a possibility of constructing an oil pipeline to Europe through Turkey's territory, IRNA reported.
Iran's Oil Minister Rostam Qasemi told journalists in Turkey that the countries are discussing options for transferring Iranian gas to Europe, through Turkey.
Industry, Mine, and Trade Minister Mehdi Ghazanfari said that signing a franchise trade agreement between Iran and Turkey is an important step in developing trade relations between the two countries.
Elsewhere, the officials of two countries are discussing a possibility of establishing a joint trade zone on the border of Iran and Turkey.
On the agenda of talks were also such topics as creation of joint enterprises, with support from investments from both Iran, Turkey and also other countries.
Oil Ministry spokesman Ali Reza Nikzad expressed hope that Iran's relations with Turkey will help to boost the transport and communication and railroads sectors to develop further.
The Iranian delegation is led by country's first vice president Mohammad-Reza Rahimi, who has been invited by the Prime Minister of Turkey Recep Tayyip Erdogan.
Previously, Turkish minister of energy and natural resources Taner Yildiz spoke on signing of new agreements in energy field between Ankara and Teheran.
Iran and Turkey are determined to boost their trade exchanges to $30b in the near future. Turkey imports around 8 million tons of oil and 8 billion cubic meters of gas per year from Iran.
Iran and Turkey have in recent years increased their cooperation in all the various fields of economy, security, trade, education, energy and culture.
/
Trend
/