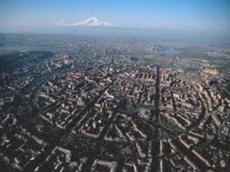 Armenia will continue to be the weakest country in the region, but Azerbaijan and Georgia will develop, until the Nagorno-Karabakh conflict is resolved, former chief adviser to ex-Armenian President Levon Ter-Petrosyan Zhirayr Libaridyan told media today.
"We are in conflict with the two neighboring countries - Turkey and Azerbaijan," Libaridyan said. "Armenia will not develop until these conflicts are resolved.".
He said that the parties must abandon maximalist demands to resolve the conflict.
"I do not trust the mediators from the OSCE Minsk Group," he said.
"The negotiations must be conducted directly."
Libaridyan, as well as president of the Georgian Foundation for Strategic and International Studies Alexander Rondeli and Azerbaijani MP, political analyst Rasim Musabayov attended the international conference "Joint efforts for the future of the Caucasus: lessons of
the past 20 years" in Baku today. It was organized jointly by the Centre for Strategic Studies under the Azerbaijani President, Caucasus International and Turkish Policy Quarterly magazines.
The conflict between the two South Caucasus countries began in 1988 when Armenia made territorial claims against Azerbaijan. Armenian armed forces have occupied 20 per cent of Azerbaijan since 1992, including the Nagorno-Karabakh region and seven surrounding districts.
Azerbaijan and Armenia signed a ceasefire agreement in 1994. The co-chairs of the OSCE Minsk Group - Russia, France and the U.S. - are currently holding peace negotiations.
Armenia has not yet implemented the U.N. Security Council's four resolutions on the liberation of the Nagorno-Karabakh and the surrounding regions.
/
Trend
/