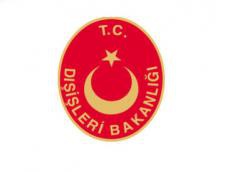 Turkey and Iran treat each other with mutual trust, Turkey's foreign minister Ahmad Davutoglu said today, IRNA reported referring to Turkish NTV TV channel.
"Our relations with Iran are not distant, it all goes well," Davutoglu said.
He also spoke about the Syrian issue, noting that Turkey and Iran held a big number of consultations on the subject.
Mentioning the "Iran-Six powers" talks, Davutoglu said that the meeting in Istanbul is a sign of mutual trust between two countries.
On May 23 Iran and the "5+1" group held talks in Baghdad, regarding Islamic Republic's nuclear program.
Before Baghdad, the talks between Iran and the six members of the P5+1 group were held in the Turkish city of Istanbul on April 14. Both sides hailed the discussions as constructive.
The outcome of the talks in Baghdad was that another round of talks was agreed upon to take place in Moscow on June 18 and 19.
/
Trend
/