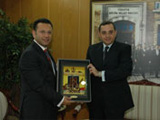 A delegation led by Azerbaijan ambassador Faig Bagirov participated in the events within the framework of the "Country`s Days" program in Samsun, Turkey. The delegation included chairman of the Turkish-Azerbaijani Business Council at the Foreign Economic Relations Board (DEİK) Cengiz Gul, vice-president of the Azerbaijan Export and Investments Promotion Foundation (AzPROMo) Rufat Mammadov and others.
The program was organized by the Azerbaijan Embassy in Turkey and Samsun Chamber of Industry and Commerce. Bagirov in his meeting with Samsun governor Huseyn Aksoy said goods produced in this main industrial city of Turkey are exported to Azerbaijan. "The meeting, which will be held by businessmen of the two countries, will contribute to boosting economic relations. Both sides are interested in Samsun businessmen`s investing in Azerbaijan and Azeri ones` taking an active part in the economic life of Samsun," Bagirov said. Aksoy stressed the importance of businessmen`s meetings.
Expansion of cooperation among businessmen of the two fraternal countries was underlined in the meeting of chair of Municipality of the Azerbaijan delegation Yusuf Ziya Yilmaz and chairman of the Samsun Chamber of Industry and Trade Salih Zeki Murzioglu. Azerbaijan`s investment climate, opportunities and legislation were presented in the meeting with Samsun businessmen. Participants received materials on economy, tourism, cuisine and culture of Azerbaijan and truths on Nagorno-Karabakh.
Bagirov also held meeting with representatives of the Azerbaijan Diaspora there. He informed representatives on tasks put forward by Azerbaijan President Ilham Aliyev in the 3rd Congress of World Azerbaijanis.
/AzerTAc/