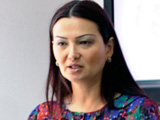 Yesterday in PACE plenary session the French parliamentary Jean-Claude Mignon's report "Follow-up to the reform of the Council of Europe" was discussed.
Besides touching upon the reforms-related issue of the Assembly, a member of the Azerbaijani delegation Ganira Pashayeva also responded to Armenian President's anti-Azerbaijan speech that he delivered in PACE's afternoon meeting. First, the deputy spoke about the reforms and importance of strengthening the control mechanisms over implementation of the resolutions that so far have been adopted by PACE.
"The control mechanisms of implementation of the documents should be strengthen not only over the documents, which will follow, but also over the documents that have been adopted by PACE so far. For example, six years passed since PACE adopted the Resolution No. 1416, in 2005, but this document still remains on paper, and Armenia absolutely refuses to fulfill this resolution.
Yesterday we have heard the Armenian President Serzh Sargsyan, but Sargsyan said no word about when he is going to fulfill Assembly's Resolution No. 1416. On the contrary, he made the anti-PACE speeches here. By Assembly's decision the Sub-committee on Nagorno-Karabakh was established, the Armenian delegation refuses to attend its meetings, and the Armenian President supports his country delegation's decision. Thus, they display disrespect CE's decisions, I think, our organization should not neglect and remain indifferent, we should raise our voices against it.
The mechanisms of pressure and impact should be taken for fulfillment of adopted resolutions and decisions. Unfortunately, in his speech the Armenian President spoke about the alleged racism and Armeniaphobia in Azerbaijan. Azerbaijan is a tolerant country. If there is a problem of racism and Armeniaphobia in Azerbaijan, then 30 thousand Armenians wouldn't live here. But if you go to Armenia just ask them to show you one Azerbaijani. They won't show you an Azerbaijani. Because due to ethnic cleansing they expelled all Azerbaijanis, who were banished from their homes and subsequently became the refugees.
The Armenian President says that within Azerbaijan's territorial integrity the Nagorno-Karabakh Armenians want to self-determine and live as an independent. That all contradicts to the international principles, including CE's principles. Just think about it, what if all national minorities living in European countries say we no longer live in this country and in the territory of it we will establish our independent State. Then what problems will rise in Europe and which tragedies will face the Europe? Council of Europe should protect its values and principles as well as fulfillment of its decisions and resolutions and CE should raise its voice against such speeches," – Pashayeva said.
/
APA
/