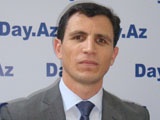 "Sargsyan's viewpoint on this matter shows that he just wants to show off," member of the Azerbaijani Parliament Zahid Oruj said commenting on Armenian President Serzh Sargsyan's remarks that Armenia may de-jure recognize self-proclaimed "Nagorno-Karabakh Republic's" independence.
"On one hand, he tries to blackmail Azerbaijan, to draw attention to Azerbaijan's military capabilities and change attitude of international community to our country," Oruj said.
"On the other hand, he wants to display that Armenia has a certain power and protection from Russia and the CSTO. Sargsyan wants to show Azerbaijan that Armenia will not be alone in this struggle in case of outbreak of hostilities," explained Oruj. 
"Armenian president has left only one resource. Trying to secure a military-political balance, he tends to downplay Azerbaijan in the eyes of international community and show that Azerbaijan could be a threat to other countries," he added.
"The Armenian politicians themselves clearly realize how futile Serzh Sargsyan's attempts are. They see that it is impossible to ensure protection of Armenia through this, because main point here is Karabakh, the territory of Azerbaijan, which we want to return. Also, the international community can not condemn Azerbaijan for increasing military capabilities, because we do not pursue a militaristic policy. There are definite numbers. If 14-15% to 22% of country's budget is aimed at increasing military capabilities, it is believed that this country pursues a militaristic policy. But in our case, this percentage is very small," the MP noted. 
"Serzh Sargsyan, making similar statements to the heads of CIS and CSTO member states, seeks to discredit Azerbaijan. But he enjoys very low credibility even in his own country. There is a split between Armenian authorities and the people of this country. It is undermining Sargsyan's regime. Armenia has a very weak economy while involvement in hostilities requires a strong economy. Therefore, by such statements it will not be able to get Azerbaijan away from its own path," Oruj underscored.
/Day.Az/