The EU's Eastern Partnership program will play a role in resolving the Nagorno-Karabakh conflict, said Secretary General of Ministry of Foreign Affairs of the Kingdom of the Netherlands Ed Kronenburg.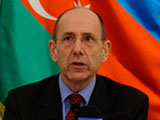 "When the EU will achieve better relations between the countries of South Caucasus region through the Eastern Partnership, this will positively affect the decision on this important issue for Azerbaijan," said Kronenburg at an official ceremony of opening the Embassy of Netherlands in Azerbaijan.
Kronenburg described the opening of the embassy in times of economic crisis as an exceptional event, speaking about importance of relations with Azerbaijan for the Kingdom of the Netherlands.
Secretary-General said that he held in Baku a number of interesting meetings, including meeting with President of Azerbaijan, the Foreign Minister and his deputy.
A photo exhibition was organized in honor of opening the embassy, which presented photos by Dmitry Ermakov. Photos were taken in Azerbaijan in 1872 - 1912.
Photos have been renovated with financial support from the Netherlands government.
The first ambassador of the Kingdom of Netherlands in Azerbaijan is Jan Lucas van Horne, who will work closely with other ambassadors of EU countries in Baku, as well as with embassies in Tbilisi and Ankara.
Azerbaijani Embassy in the Netherlands was opened in 2007. The current ambassador is Fuad Isgandarov.
/
Trend News
/