Day.Az interview with Chairman of the Congress of Ukrainian Azerbaijanis Akif Gulmammadov.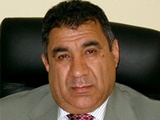 How do you see future of the Azerbaijani community in Ukraine under the new president in Ukraine?
It should be noted that Azerbaijanis are the third largest national community in Ukraine after Ukrainians themselves and  Russian community of about 10 million people. The total number of Azerbaijanis in Ukraine has reached half a million people in recent years. Roughly 300,000 of them have been granted Ukrainian citizenship.
I must say that Viktor Yanukovych had excellent relations with Azerbaijanis at all times - when he was governor, when he was MP and when he was Prime Minister. So, I am confident that these excellent relations between our diaspora and the new Ukrainian president will remain the same in the future. I can predict only improving situation of Azerbaijanis in Ukraine. I cannot predict any potential changes for the worse.
How would you describe attitude of ordinary Ukrainians to the large Azerbaijani community? Are there any problems or complaints?
As I said, the state has an excellent attitude to us. We keep in constant contact with many of the state bodies and major political parties in Ukraine. Our relationship can even be called businesslike.
Ukrainians have a friendly attitude towards Azerbaijanis. We have not had any problems for a long time. The only thing that should certainly be noted is the problem with the timely preparation of documents and legality of a stay in Ukraine. But usually our people create these difficulties themselves. They often forget that they need to renew registration in time, to sign an work agreement in accordance with local laws, etc.
We are looking for options in our Congress  helping compatriots to handle difficulties. Azerbaijanis in Ukraine face only these kinds of problems.
It is known that the global financial crisis strongly hit Ukraine. How did it impact economic situation of Azerbaijanis and their standard of living? In what they are mainly engaged?
Yes, the crisis has certainly affected financial situation in our community like other residents of Ukraine. This particularly influenced work of businessmen of Azerbaijani origin, because many of them were engaged in the supply of various goods between Ukraine and Azerbaijan. The supplies decreased because purchasing power of the population fell significantly. The crisis affected many areas of activity in Ukraine.
Many Azerbaijanis were originally engaged in petty trade in Ukraine. Later they gradually began to register their firms. They were mostly trading companies. But today many are engaged in restaurant business, opening new cafes in many cities and attracting clients with rather exotic Azerbaijani cuisine. I can say that the current state of Azerbaijanis in the Ukrainian society is very different from what it was 10-15 years ago. Now they are mainly people involved in solid business.
In your opinion, may Yulia Tymoshenko remain Prime Minister and is it true that the Azerbaijanis in Ukraine have a negative attitude to her because of her origin?
It is hard to predict who will be prime minister. Mr. Yanukovych has called three names that he would propose to the parliament. They are well-known politicians Sergei Tigipko, Arseniy Yatsenyuk and Nicolai Azarov. Azerbaijanis are satisfied with all three candidates. We have always had good relationship with them.
It is wrong to think that the local Azerbaijanis have a bad attitude to Yulia Tymoshenko. During presidential election some Azerbaijanis voted for Tymoshenko. I personally cannot recall a case when Tymoshenko has ever shown a negative attitude towards Azerbaijan and the Azerbaijanis. This has not happened.
Do ethnic Azerbaijanis hold high-rank posts in Ukraine?
A total of 15deputies of Azerbaijani origin have been elected from various regions of Ukraine. In other words, they are parliamentarians of regional level. As to the district and urban parliaments, the number of Azerbaijani MPs is very high there. I cannot even cite an exact figure. Two Azerbaijanis have mandates in the Verkhovna Rada currently.
R. Mehdiyev