Day.Az interview with co-chair of Russia's "Just Cause" party Leonid Gozman.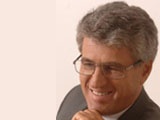 On Monday, Armenian President Serzh Sargsyan discussed a wide range of issues with special emphasis on resolving the Nagorno-Karabakh conflict during a Russia trip. Are there real conditions to ensure that the conflict will come out a deadlock in 2010?
To be frank, I have no forecasts in this regard. It is hard process to predict. I know exactly that this conflict is not the one that can be solved by a magic wand. Moreover, I believe that this conflict has  no political solution that can satisfies all parties without what they call losing face.
I imagine the solution somewhat differently when some unresolved issues are negotiated for 30 years. In other words, the parties may agree in a written form or orally to return to the solution of the conflict after some time.
Do you suggest freezing status of Nagorno-Karabakh for 30 years?
For example, during the Arab-Israeli conflict, the parties to the conflict froze the status of East Jerusalem. Leaving aside one problem, the parties could discuss a host of other issues. Actually, the understanding was later undermined.
Then how can Azerbaijan and Armenia contact once status of the Nagorno-Karabakh conflict is frozen for 30 years?
The core of my offer is to establish initial contact between the two countries, which, I think, is much more important today. I mean establishing diplomatic and trade-economic, cultural, environmental and other kinds of relations. And if all these are resolved, even the Nagorno-Karabakh problem will not be destructive in relationship between the two countries.
Recently, Turkish PM Erdogan visited Moscow and Russian FM Lavrov tripped to Yerevan almost simultaneously. Later, Armenian Defense Minister Seyran Ohanyan arrived in Moscow. Naturally, all these are interconnected. What are your views on the final proposals for Azerbaijan and Armenia which may be prepared by mediators on the sidelines?
I believe that the parties to the Armenian-Azerbaijani conflict will agree upon something in near future. I think that this agreement will deal with normalizing situation in the region as a whole rather the status of Nagorno-Karabakh. In this case Yerevan-Ankara and Baku-Yerevan relationship are the main point.
Some political statements will be made regarding Nagorno-Karabakh, because, as far as I know, today there is no a solution that would satisfy the parties to the conflict. Of course, one of the parties will made to accept the agreement, but it will renounce it as soon as possible considering the agreement unfair. Therefore, the most correct decision now will be normalization of relations between the two countries.
You know that it is impossible to normalize relations without resolving issue of the occupied territories. Azerbaijan will never accept this.
You know, Nagorno-Karabakh problem is a very emotional issue. This is an issue of honor and saving face of the sides to the conflict. Of course, there are points that Armenia or Azerbaijan will never accept. However, they can decide not to talk about it some time and try to mend relations without a final solution to this problem.
Russia has been more active than other intermediaries in recent years. In your opinion, what is the reason: Russia pursues its own interests, or we will witness sincere intermediary positions and not more?
I believe that Russia is extremely interested in peace in this region. It already faces headaches in the North Caucasus. It has complex relationship with several former Soviet republics Ukraine, and Georgia. So, Russia does not want to see another conflict near its borders, especially between the traditional partners like Armenia and Azerbaijan.
If tomorrow, God forbid, we see armed conflict to erupt between the parties again, I think, Russia will take action to reduce tensions between the countries. I'm not saying that Russia should take part in the war.
What do you mean by "actions aimed at reducing tensions"?
Azerbaijan and Armenia will depend on peace in the region to a certain degree and from neighbors - Turkey, Russia and finally the United States. So,  in case hostilities are resumed, international steps should be taken to enforce peace ...
Do you mean enforcing peace by diplomatic means?
Yes. Diplomatic and economic means. I think there will be some arguments that Yerevan and Baku will have to listen. The arguments will come from consolidated international community ...
H. Hamidov