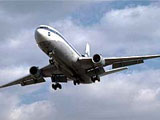 The airport Armenians plan to build in Shusha, the occupied territory of Azerbaijan, will not be recognized by any international organization, Azerbaijan State Civil Aviation Administration Chief Arif Mammadov said.
"If any aircraft lands in this airport, the Azerbaijani side will take appropriate legal action against that airway company. I think this airport will not be recognized by international airlines either," he added.
"There is a similar situation in Cyprus. International organizations and airlines don't recognize the airport in the Northern Cyprus as an international one," he said.
He added that State Civil Aviation Administration, and Ministry of Defense regularly bring to the attention of international organizations that Armenia violates international conventions and rules of use of Azerbaijan's airspace.
/
APA
/