Armenian Ex-Education Minister and Associate to Armenian Ex-President Levon ter-Petrosyan Ashot Bleyan spoke to Day.Az in an interview.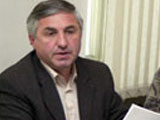 Day.Az: Less than a month has been left till the return football match between Turkey and Armenia to be held in Bursa, Turkey. What is your prediction: Will Serzh Sargsyan trip to Turkey?
Ashot Bleyan:
I am not a foreteller political scientist. The meeting of two leaders is not a football match and I have no interest in sports. There is no need to interrupt the Armenian-Turkish relations at a high level. The meeting between Sargsyan and Gul will give momentum and direction to the Turkish-Armenian dialogue. Independent Republic of Armenia should fully establish natural relations with its neighbor Turkey. Simultaneously, relations with Azerbaijani people must also be restored as in the Soviet era, only without the Center.
Q: The Armenian opposition, diaspora and several parties have expressed their displeasure regarding the Armenian-Turkish protocols. Do you think Armenian parliament will ratify the documents amid this scenario?
A: Dissatisfaction with the Armenian-Turkish protocols is rapidly growing in Armenian society. The Republican Party chaired by President Serzh Sargsyan holds a majority in parliament in any decisions. This is an issue that is not decided by a formal vote in parliament. The ruling party headed by the president of Armenia has an opportunity and is obliged to settle the Armenian-Azerbaijani and Armenian-Turkish relations with a solid world, and I think, public support within the republic.
Q: "Dashnaksutun" demands Armenian foreign minister to step down, to hold a referendum on the Armenian-Turkish protocols and also "Heritage" has offered to hold a referendum of confidence the country's president. Can these demands have any results?
A: A referendum is wonderful, but not to such an extent as to save us from the hard work to establish natural relations with Turkey and Azerbaijan.
"General de Gaulle once said: "When I want to know what the French people want, I address to myself." I think that Serzh Sargsyan knows that people living in Armenia are primarily interested in their own lives and lives of their loved ones. Simple Armenian is interested in peace and harmony with his/her neighbors. This is also strategic interests of a republic.
I wish steadfastness and consistency to both Serzh Sargsyan, Armenia foreign minister and the government, and the Republican Party, which represents the majority in parliament.
It's time to resolve the Karabakh conflict. And the progress in Armenian-Turkish relations and ongoing Armenian-Turkish dialogue are in the nick of time. Half-measures and half-resolution will threw us back to the beginning of the problem. One must not stop halfway.
Q: Against the backdrop of normalization of Armenian-Turkish relations, the Karabakh issue occupies not the last place as Turkey's stance on this matter is obvious. What are the prospects for settlement of the Karabakh conflict under the current circumstances?
A: I think more and more people realize that the development of Turkish-Armenian and Armenian-Azerbaijani relations would have a better chance if they will be addressed in parallel or even together. Authorities and the public in Armenia, Turkey and Azerbaijan must show that for more than 20 years of conflict they have become wiser. In this regard, Turkey should not act in a role of the judge or a role of the prosecutor. It should honestly help the parties to the Karabakh conflict.
I am of the opinion that the Turks can and should play an important role in this regard.
Twenty-year history of our conflict knows many forms how not to solve the conflict. It requires not a great imagination, just a lack of political will.
/Day.Az/