Director of Ukraine-based Center for Political Studies and Conflict Science Mikhail Pogrebinski spoke in an interview with Day.Az.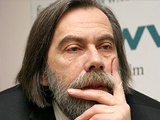 Day.Az: Recently, development of GUAM, which unites also Azerbaijan and Ukraine, has experienced some stagnation recently. How effective is the cooperation between Azerbaijan and Ukraine in the format of this organization?
Mikhail Pogrebinski:
Inefficiency of GUAM is a recognized fact. Even experts, who initially with enthusiasm accepted creation of this organization as a tool for joint "friendship against Russia", now describe it as a "mirage". Meantime, Ukraine, of course, is very interested in cooperating with Azerbaijan.
Q: Azerbaijan does not rule out military solution to the Karabakh conflict. How real is the resumption of hostilities in the region?
A: Although I am not a military expert, it is obvious to everyone how important efforts Azerbaijan has made in terms of procurement of weapons, including in the sphere of military-technical cooperation with Ukraine. Azerbaijani armed forces enhance power constantly. The authorities have determination to use the ultima ratio regum. Azerbaijan's military budget significantly exceeds that of Armenia.
At the same time, at least according to the published data, the superiority of Azerbaijan's ammunition over Armenia and Nagorno-Karabakh forces does not apply to not all heavy weapons. For example, it is superior over armored vehicles and aircraft, but as I understand it, not over artillery.
Moreover, military experts believe that confrontation in steep terrain has significant features that reduce significance of heavy equipment. Much, of course, depends on training and readiness of personnel, but here it is up to professional military experts to judge the balance of power between Azerbaijan and Armenia.
Q: Armenia, in turn, increases cooperation within CSTO counting on the support of the organization in event of a new war in Karabakh. Do you admit the possibility of such intervention on the part of this organization?
A: Of course, while in Kiev, it is difficult to judge the depth of the commitments to Armenia, which Moscow claimed within the CSTO in the event of extraordinary situations. Perhaps these commitments are very significant and this may seriously affect the balance of forces in the region.
Major armed conflict can, without doubt, seriously mix cards in "the big game" carried out by non-regional players in the Caucasus - Moscow, Washington, Brussels and Ankara. The latter, especially Washington and Ankara, are interested in ensuring safety of certain oil and gas pipelines lobbied by them. It is known that, for example, during the clashes in South Ossetia energy projects Baku-Tbilisi-Ceyhan and Baku-Tbilisi-Erzurum were in a rather vulnerable situation.
Therefore, it seems to me that the Azerbaijani side will seek to most effectively use threat of massive use of force emphasizing the determination of its intentions, especially with regard to the fate of regions surrounding Nagorno-Karabakh and at the same time clearly estimating possible consequences of each hard step.
/Day.Az/