Azerbaijan's position on opening of Armenia-Turkey border is based on numerous statements by Turkey's senior officials, Azerbaijani Foreign Ministry spokesperson Elkhan Polukhov said.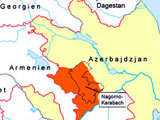 So, Turkish Prime Minister Recep Tayyip Erdogan, speaking at the Azerbaijani Parliament on May 14, said: "Turkey closed its borders with Armenia after Armenia occupied the Azerbaijani lands. The borders can be opened only after occupation ends. We will not change this position until our Azerbaijani brothers agree with this. Everything is interconnected and cannot be taken separately," Polukhov said.
"Meanwhile, Azerbaijani Foreign Ministry once again states that determining relations with other states is a sovereign right of every state."
"However, given that this issue directly affects Azerbaijan's national interests, opening of Armenia-Turkey border without resolution of the Armenia-Azerbaijan Nagorno-Karabakh conflict contradicts national interests of Azerbaijan," Polukhov said.
/Day.Az/