"Armenia will continue its foreign policy line to come closer to the European family."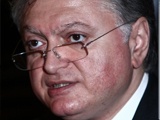 Armenian President Edward Nalbandyan said after talks with the EU Troika delegation led by Swedish Foreign Minister Carl Bildt in Yerevan.
European Union Troika delegation led Swedish Foreign Minister Karl Bildt arrived in Yerevan on Monday. The delegation is expected to meet with President Serzh Sargsyan and Foreign Minister Edward Nalbandyan.
"Armenia will continue its foreign policy of rcarapprochement with the European family and intends to implement necessary steps and reforms on this track," the minister said.
He said the negotiations focused a wide range of issues related to th Armenia-EU relations, directions of expanding and deepening cooperation, as well as in the direction of joint action.
"The cooperation between Armenia and EU is diverse. We work in a variety of formats and on various programs, in particular, the Agreement on Partnership and Cooperation Policy and European Neighborhood Policy and the Eastern Partnership," Nalbandyan said.
He also briefed on the process of settlement of the Karabakh conflict, the results of the meeting of the presidents of Armenia and Azerbaijan that took place two days ago and confirmed Yerevan's principled approach on solution of the problem which implies that the conflict can be resolved only by peaceful means.
/Novosti Armenia/