The international exhibition of defense technologies and production IDEF-2009, earlier held in Ankara, will be held in Istanbul this year.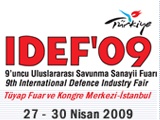 The exhibition will be held for three days from April 27.
According to Novosti-Azerbaijan, it will involve the Defense Ministry of Azerbaijan.
As is reported, Azerbaijani side is hiring an exhibition area of 30 square, to demonstrate sniper rifle Istiglal, fiber aiming devices, armored transport means, automatic launchers, electric plates of Azerbaijani production.
This exhibition is held twice a year by the Turkish Ministry of National Defense and arranged by the Fund of Support of Turkish armed forces.
Last year the exhibition involved 494 companies from 48 countrues including 161 local companies and 333 foreign firms. The shift of venue from Ankara to Istanbul is due to possible implementation of other projects in the same terms.
The profile of the IDEF 2009 is military hardware for land forces, marine and air forces, defense technology, airspace technologies, board systems, helicopters, security systems, equipment and transportation and logistics systems.