On September 15 Azerbaijani Foreign Minister Elmar Mamedyarov received a delegation of the assembly of the Union of Western Europe, visiting our country, reported the press service for the Azerbaijani Foreign Ministry.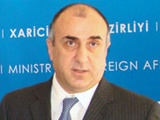 Informing the visitors about the priorities of Azerbaijan's external policy and directions of cooperation in the international arena, the Minister said that Azerbaijan takes steps to build a democratic, civilian society, economic welfare and a strong state.
Mamedyarov noted that Nagorno Karabakh conflict is a primary task for the Foreign Ministry, which should be settled, and this conflict poses a threat to stability in the region and impedes its development.
The visitors put some questions to Mamedyarov, mostly regarding Azerbaijan's relations in neighbor countries and cooperation in the framework of the international organizations.
The Minister noted in turn that Azerbaijan is interested in the trustful and stable relations with neighbor countries and durable peace and development in the region.
/Day.Az/