Russian and Azerbaijani Foreign ministers Sergey Lavrov and Elmar Mamedyarov met in Moscow yesterday.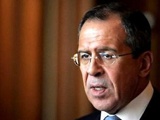 Day.Az reports with reference to the press service for the Azerbaijani Foreign Ministry that during the meeting the sides discussed regional issues, as well as Turkey's initiative "platform of security and cooperation in the Caucasus".
At the meeting, the sides noted that stabilization of the situation in the region meets the interests of all the regional states.
The Foreign ministers of Russia and Azerbaijan also discussed the Nagorno Karabakh conflict. Lavrov noted that the territorial integrity of Azerbaijan is recognized in line with the bilateral treaties and the document, signed between the two presidents.
/Day.Az/