"If Armenians are a nation, if they have a dignity, their own history and personality, they should recognize independence of Nagorno Karabakh", said Mubariz Ahmedoghlu, head of the center for political innovations and technologies.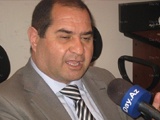 He noted that Armenia can not specify the reason, why it has not yet recognized independence of Nagorno Karabakh.
"Armenia is now in hard conditions and to overcome this situation it needs to improve relations either with Russia or Azerbaijan", said Ahmedoghlu.
The political scientist noted that Armenia tries to open border with Turkey but Turkey will demand the return of Nagorno Karabakh to it in exchange.
"Armenia should decide about the political course: Russia or Turkey. Armenia should stop bluffing", said Ahmedoghlu.
/Day.Az/