Day.Az interview with famous military expert Uzeir Jafarov.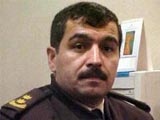 - How would you comment on Azerbaijan's intention to buy ten multi-mission reconnaissance pilotless jets Hermes 450 from Israeli Silver Arrow company?
- For the country, whose 20% lands are still under enemy's occupation and whose leadership has repeatedly stated that our people will never accept such state of things, the purchase of multi-mission reconnaissance pilotless aircrafts should have been a case of the past not today. Unfortunately, for Azerbaijan, which is proud of its leading positions by GDP growth it was necessary to see launching of such pilotless jets by neighbor Georgia, which is not so wealthy, to realize the need for such purchases.
It is only left to say "better late than never". There is another moment I would like to draw your attention to. We have been informed that each pilotless jet along with its operation system will make $20-25 mln.
In this connection, it would be expedient to inform that several years ago an engineer of the local Academy of Science offered to the Defense ministry to create an aircraft, capable of operating flights over Nagorno Karabakh, occupied by Armenians. But nobody adhered to this proposal, though his offer would cost less.
We have witnessed more than once the difficulties that local journalists face while getting even an ordinary information in the Defense Ministry. The paradoxical is that the officials of the Defense Ministry are silent even in cases when reporters try to get information, which is later made available for any Internet user, familiar with the websites of all those international organizations, our country joins and to which this information is provided. "Military secret" becomes "a magic word" for local officials.
But what we see now? Information about the intention of the Azerbaijan Defense Ministry to buy ten multi-mission pilotless reconnaissance jets Hermes 250 has been spread with reference to a source in the defense ministry though this information should have been considered a military sector, as purchase of such military technique has always been considered a special secret, while in our country not only the type of equipment to be purchased but also the firm to sell it to us has been specified. Well, we only have to admit that Azerbaijan is a country of paradox.
- Are these pilotless jets suitable for our region?
- On the whole, they are. In particular, these pilotless jets have a coverage radius of 100 kilometers and may stay in air for 20 hours. Therefore, it would be expedient to use these pilotless jets in Fizuli and Aghdam directions. Such specialists are trained in the air defense and reconnaissance troops. As far as we know, there are specialists in our country, who can operate these pilotless jets.
- Isn't there a risk of their being knocked down by Armenian air defense systems?
- It would be wrong to rule out such a possibility. These are not stealth planes of the latest model. The potential of Armenian air defense systems should not be underestimated, even so more as it has a strong ally as Russia which will possibly assist in termination of these jets. Therefore, caution should be applied during the launching of these pilotless jets to make everything possible for them not to be knocked down at least during the first flights.
- When should the flights be started over the occupied lands of Azerbaijan, presently controlled by Armenian formations?
- The sooner, the better, for any new information about the current state of Armenian armed forces, controlling the occupied lands of Azerbaijan, can be truly invaluable in case military actions are restarted.
/Day.Az/