The appeal of imprisoned editor-in-chief of Azadlyg newspaper Ganimat Zahid will be sent to the European Court of Human Rights on February 13.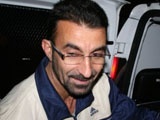 The due information has been provided by reporter's lawyer Rashid Gajili, Day.Az reports.
He announced that the appeal indicates the unjust arrest of G.Zahid and violation of Article 5 of the European Convention on Protection of Human Rights (right for freedom and personal immunity).
It should be reminded that a preventive measure in a form of a two month arrest has been selected against G.Zahid by decision of the Yasamal district court. G.Zahid is charged under articles 221 (hooliganism) and 127 (deliberate causing of harm to human health) of the Criminal Code.
/Day.Az/