Under the agreement concluded with one of the US military companies, a part of Azerbaijani Navy will be equipped with laser marksmanship device/system.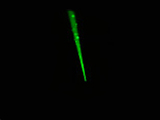 The US company specialists are giving training for Azerbaijani Navy officers on the use of new equipment. The training will last by the year-end, military sources told the APA.
Defense Ministry press service head, Colonel Lieutenant Eldar Safarov said he is not informed of the abovementioned. But he underlined that the work on modernization of warships continue. The press service head said these activities are held according to the Individual Partnership Action Plan supported by NATO.