Ombudsman Elmira Suleymanova made a statement on March 31 – day of Azerbaijanis genocide.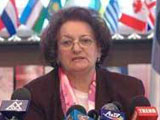 The appeal is addressed to UN Secretary General, UN High Commissioner for Human Rights, Council of Europe, OSCE, International and Europe Ombudsman Institutes, Asian Ombudsman Association, foreign embassies in Azerbaijan, Azerbaijani embassies in foreign countries. The appeal reads:
"Genocide and deportation policy of Armenian nationalists and their supporters are the saddest events of Azerbaijani history. Azerbaijan's separation started after Gulustan (1813) and Turkmenchay (1828) treaties, which were signed between Russia and Iran. After Azerbaijani territories were distributed between Iran and Russia in 1828 Armenians were promised autonomy, they were moved from different countries, especially from Iran and Turkey and settled in western lads of Azerbaijan. Thousands of Armenians were settled in Yerevan, Nakhchivan, Karabakh and other regions of Azerbaijan. Ethnic composition of Azerbaijani population was changed deliberately in favor of Armenians in 1828-1830. As a result of this policy against our people lost its territories Yerevan, Goyje and Zengezur. Armenians invaded Nagorno Karabakh and seven neighboring regions – Lachin, Kelbejer, Aghdam, Fuzuli, Zengilan, Gubadli and Jabrail. Azerbaijani population underwent ethnic cleansing and deportation accompanied by violation of human rights and freedoms, inhuman treatment and insulting actions by Armenian nationalists."
Elmira Suleymanova said that March slaughters of 1918 are the most terrible example of genocide policy committed against Azerbaijanis, APA reports.
"Members of Armenian Dashnak party killed 12,000 Azerbaijanis – the old, women and children and destroyed historical monuments in Baku within three days. Such massacres were also committed in Guba, Khachamz, Shamakhy, Lenkeran and other regions. Hundreds Azerbaijani villages and cities, as well as 150 villages in Karabakh were destroyed in 1918-1920, over 50,000 Azerbaijanis were killed," the statement says. The statement ends as the following"
"I hope famous international organizations will support Azerbaijan's position, justice will win and international organizations will impose sanctions on Armenia making genocide a part of its policy. We believe that you will help to restore peace and welfare in Azerbaijani lands and violated rights and freedoms of Azerbaijani people."