The first meeting of Milli Majlis was held on Thursday.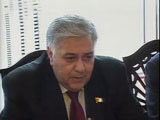 Making a speech in the opening ceremony Speaker Ogtay Asadov gave information about the bills included in the plan of legislative works of the session.
The speaker said that the report of the Cabinet will be heard in the 5th meeting of the session.
He noted that the reports on execution of the budget of Ombudsman and state for 2006 will be heard in the spring session.
Besides, the report of the organization on public control over municipalities will also be heard, APA reports.