Armenia's deputy foreign minister on Wednesday again expressed his country's readiness to establish diplomatic ties with Turkey without conditions.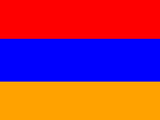 "Armenia's wish is for diplomatic relations to start without any conditions," Arman Kirakosian told reporters after visiting the family of an ethnic Armenian journalist killed in Istanbul on Friday.
Turkey and Armenia have no diplomatic relations, and the border between the two countries has been shut since 1993 because of Armenia's unresolved conflict with Azerbaijan — a close Turkish ally — over the disputed enclave of Nagorno-Karabakh. Relations are further complicated over the World War I-era killings of Armenians.
"We have been an independent state for 15 years, but unfortunately, we have no relations with Turkey," Kirakosian said. "Different countries have diplomatic relations despite having problems."
Turkey has been calling on Armenia to resolve its territorial conflict with Azerbaijan and respond to Turkish calls to jointly investigate the deaths of Armenians during the fall of the Ottoman Empire.
Earlier, Turkey's Foreign Minister Abdullah Gul complained that Armenia had not so far responded to Turkish calls.
"Of course, we would like to develop our ties with Armenia," Gul said.
Gul said, however, that Armenia should "not make unfair demands on Turkey," in an apparent reference to Armenian insistence on recognizing the killings as genocide.
"The neighboring country should also review its thoughts, its sentiments toward Turkey," Gul said.
Last year, Turkish and Armenian officials met to discuss normalizing relations. Although the talks apparently led to no breakthroughs, the fact that the two countries were talking was considered one in itself.
Armenians say that Ottoman Turks slaughtered 1.5 million Armenians in a planned genocide. Turkey vehemently denies that the mass killings were genocide, saying the death toll is inflated and Armenians were killed in civil unrest as the Ottoman Empire collapsed. The Associated Press
/The International Herald Tribune/