"International organizations will continue to work intensively on the issue of political prisoner irrespective of whether to appoint a special rapporteur to deal with it in Azerbaijan," said Denis Bribosia, special representative of CE Secretary General for Azerbaijan.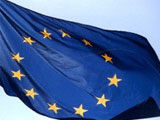 He told APA that one of the targets of CE is to prevent the problem of political prisoner in Azerbaijan.
"It is in PACE's authority to appoint a special rapporteur on this issue to Azerbaijan," he said.
PACE Monitoring Committee Chairman Eduard Lintner stated that he would meet with PACE Monitoring Committee co-reporters for Azerbaijan, Tony Lloyd and Andres Herkel next week and discuss the situation of political prisoner.
He said that if the co-reporters would consider it necessary to appoint a special reporter on this issue, he would raise the issue.
Samad Seyidov, head of Azerbaijani delegation to PACE, and Ali Hesenov, chief of President's Office socio-political department, stated that they were against the appointment of reporter on any issue but Nagorno Karabakh conflict. They grounded it with implementation of all commitments before Council of Europe.