President Ilham Aliyev of Azerbaijan received the delegation of the German Marshall Fund of the United States.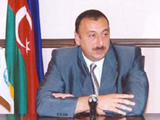 Noting the successful development of cooperation between USA and Azerbaijan in numerous fields, President Aliyev appraised the links with the Marshall Fund and expressed hope for further cooperation.
Speaking of the world interest to Azerbaijan, the head of the delegation Scott Klug specified notable development of co-op between USA and Azerbaijan. The role of Azerbaijan rises on the international arena and the relations between the Fund and Azerbaijan have acquired a new phase, he underscored, expressing hope for fruitful cooperation in the coming years.
At meeting, also focused were on the Azeri-US relations and a range of international questions. AzerTAg