The latest statements by OSCE Minsk Group U.S. Co-chair Matthew J. Bryza prove that the Azerbaijani authorities gave ok on conduction of referendum in Nagorno Karabakh, Musavat party leader Isa Gambar stated in Baku.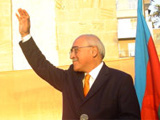 In his words, every time before elections the ruling power promises international organizations to agree with the proposes on the conflict settlement, which "damage national interests of Azerbaijan."
"However after the elections the authorities understand that they cannot keep the promises and try to change their position and justifying themselves to the international organizations," Isa Gambar said.
He also stressed that the statements that 2006 will be the decisive year for the settlement in the Nagorno Karabakh conflict prove that some promises were received from the Azerbaijani leadership.
"Now the experts are disappointed and urge the authorities to fulfill the obligations. They anchor hopes with the meeting of the Presidents likely to be held within the framework of G8 summit in Saint Petersburg," Isa Gambar said.
/www.yerkir.am/