In a ludicrous stage-managed security and judicial seminar on Sunday, the Governor, Prosecutor General and State Security Force (SSF) commander of Qom Province together called for further suppression of the people's uprisings by the SSF.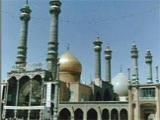 According to the official news agency, IRNA, the Governor of Qom Abbas Mohtaj said, "If there are shortcomings regarding (security), these people create disorder and insecurity."
The Prosecutor General of Qom Abdolreza Nematollahi said, "The reaction to these people must be such that it dissuades others from committing crimes."
Fearing further uprisings and demonstrations in various parts of the country including Tehran, Azerbaijan, Khuzistan, Sistan and Baluchistan, and Kurdistan, they called for stepped up suppressive measures.
The Iranian Resistance calls on all international human rights organizations and the current session of the UN Human Rights Council to condemn the violations of the Iranian people's basic rights by the medieval mullahs' regime in Iran.
/www.ncr-iran.org/