Azerbaijani resident Polad Sirajov detained in Guantanamo prison of the USA in Cuba, will be handed over to Netherlands after two days by the help of International Red Cross Society.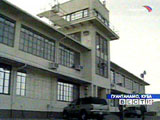 Azerbaijan Committee chief against Tortures, Elchin Behbudov informs that Polad Sirajov has refused meeting with his family members because of no security provision. Polad Sirajov has got his higher education in Turkey. He worked as a translator in one of the Turkish companies in Russia.
Two years ago, being accused in collaboration with Al Gaeda terror organization, taken to Guantanamo prison. Polad Sirajov has been cured in one of the hospitals near Guantanamo for not being discovered any crime.
He was moved to one of the rehabilitation centers two years ago by the International Red Cross Committee. Polad Sirajov will be sent to Netherlands in accordance with his apply to the said organization. He has refused to return to Azerbaijan, APA reports.