Ilham Aliyev, The President of Azerbaijan, received delegation with Alirza Tahmasebi, Iranian Industry and Mining Minister.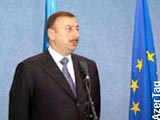 As APA reports,the Head of the Azerbaijani Government has underlined a growing cooperation between Azerbaijan and Iran in different fields.
Talking about his meetings with Iranian President Mahmud Ahmadinejat, Mr. Aliyev has said that they had a special role in the expansion of mutual cooperation. He has expressed his hope about the Minister's visit to stimulate further development in cooperation.
Mr. Tahmasebi has greeted Aliyev on behalf of Ahmadinejat. He has also congratulated The President and his people for May 28, Day of Republic. The visitor has also talked about good relationships between countries, saying that Iran for ever supports independency and territorial integrity of Azerbaijan.