Ukraine is a friendly country towards Armenia, Chief of the General Staff of Ukraine, Armed Forces Commander-in-Chief, colonel general Sergey Kirichenko stated at a news conference in Yerevan.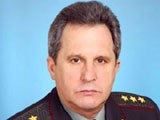 In his words, Ukraine works to have normal relations with all countries of the region, specifically Georgia and Azerbaijan.
Sergey Kirichenko underscored that reports on arms supplies to Azerbaijan are not true.
"Ukraine does not interfere with conflicts between countries and does not supply arms to any of the parties. This refers to light armament, as well as tanks and planes," the General Staff Chief emphasized.
/PanARMENIAN.Net/