Azerbaijan's President Ilham Aliyev told journalists at the Borispol airport in Kyiv today that energy issue will be the priority in the cooperation among GUAM member states.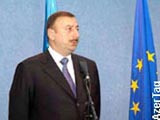 The UNIAN Agency reports that responding to the question whether new projects will be discussed in GUAM framework, Mr.Aliyev said these issues are on the eve of discussion.
"The discussions at the summit will focus on further elements of any cooperation of mutual interest, specific energy projects are not yet the topic of discussions. All the issues are being investigated and discussed," President Aliyev noted.
The Azerbaijani President also reminded that Azerbaijan is successfully implementing important large-scale energy projects. Responding to the question "What are Azerbaijan's expectations from the Kyiv Summit", Aliyev said that this union is developing, new forms are emerging, the Kyiv summit is very important for improving the management mechanism of the organization. The President hoped that the summit will give a strong impetus to the current cooperation among the GUAM states.
"We have multisided cooperation which covers all spheres of both politics and economy as well as energy security and transport communications," he noted.
Azerbaijan's Embassy in Ukraine told APA that President Aliyev is expected to meet Georgian President Mikhail Saakashvili today. Aliyev is due to meet Ukraine's President Viktor Yushchenko tomorrow.
/APA/