Azerbaijani Ambassador to Italy, Emil Kerimov, who is also accredited in San Marino Republic, has submitted the credentials to the officials terminating their service in government of this country - the Captain-Regent, Claudio Muccioli and Antonello Bajiocci, in accordance with the protocol rules.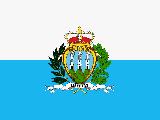 As Trend reports, at the ceremony San Marino Republic State secretary on foreign affairs and politics, Fabio Berardi has held a speech about the political and economic development in Azerbaijan and its international ties. He has congratulated Kerimov with the new appointment, emphasizing that this will give additional impetus to the development of bilateral relations.
Kerimov in his turn conveyed greetings of President, Ilham Aliyev to people and government of San Marino and told about his special attention to the development of the contacts between two states.