A meeting of the Central Electoral Commission of Azerbaijan (CEC) took place on March 22.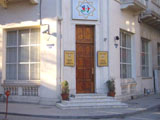 According to Trend, a protocol of CEC meeting dated March 16 2006 was approved and an appeal presented by the CEC chairman Natik Mammedov was discussed.
Appeal made by Alikram Alekperov, who has nominated his candidature from the second electoral district in Surakhani, was not earlier reviewed by the district electoral committee, that has declined his candidature. Mamedov said that documents provided by the district electoral commission have serious mistakes in them.