It won't be wrong if some claim that the biased stance of the West paved the road for the bloody Garabagh War that lasted over 30 years and cost the lives of thousands. It is crystal clear that Armenia, devoid of any resources, could not dare to start any military aggression against Azerbaijan in the 1990s. The West pampered and spoiled Armenia to such an extent that Yerevan was sure that all its atrocities and crimes would be unpunished. Western NGOs, politicians, and especially media outlets had done their best to force Azerbaijanis to accept then-realities. To justify their heinous claims, they used to exemplify the German-French relations and say that the two countries had fought in WWII, but today they had a good relationship. They did not hesitate to travel to the invaded territories, prepare the programs, and participate in the events. However, they prepared to turn a blind eye to the massacres committed by Armenians such as Khojaly, Meshali, and so on.
Even, nobody remembered the four UN resolutions that demanded immediate withdrawal from the Armenian side. However, the 44-day War in 2020 and the anti-terror activities in 2023, totally changed everything. By force, Azerbaijan pushed Armenia to fulfill the before-said resolutions. Following these two events, the rhetoric of Western mass media, NGOs, and politicians changed instantly. They promptly remembered ethnic cleansing. As if taking instructions from one center, all Western media outlets commenced speaking about the so-called ethnic cleansing conducted by "Azerbaijan against Armenians in Garabagh".
Some Western politicians ardently speak and note that they will not allow any 'ethnic cleansing' (that actually does not exist). They have gone the extra mile to require imposing sanctions on Azerbaijan. However, for some reason, they did not denounce ethnic cleansing conducted by Armenia in the 1990s. They did not hurry to impose sanctions upon Armenia when Yerevan expelled over one million people of different origins from their hometowns and leveled down cities, towns, and villages. It is obvious that the Western media, jointly with other international organizations, have been trying simultaneously to demonize Azerbaijanis and create an image of innocent civilian peaceful Armenians. As if the victims are not one million Azerbaijanis who were forced to leave all his/her savings, property, and hometowns, but Armenians who illegally tried to appropriate all belonging to the Azerbaijani IDPs and refugees. As if we, Azerbaijanis, are all bloodthirsty who crave for a war, but Armenians are poor peace-loving civilians who try their best to evade a war.
For this purpose, i.e. creating an innocent and civilian Armenian image, the Western media resort to all kind of impudence. Take the Economist, for example. The article "What We Have We (Mostly) Hold" in 1996, starts with the sentence "Nowhere have the Armenians been as energetic and tough as in Nagorno-Karabagh".
The article praises the Armenian invasion and speaks wholeheartedly about economic development in 'Azeri-free' lands. However, the same Economist shamelessly calls the anti-terror activities conducted by Azerbaijan in 2023 genocide and ethnic cleansing. It reminds me of the motto some people are more equal.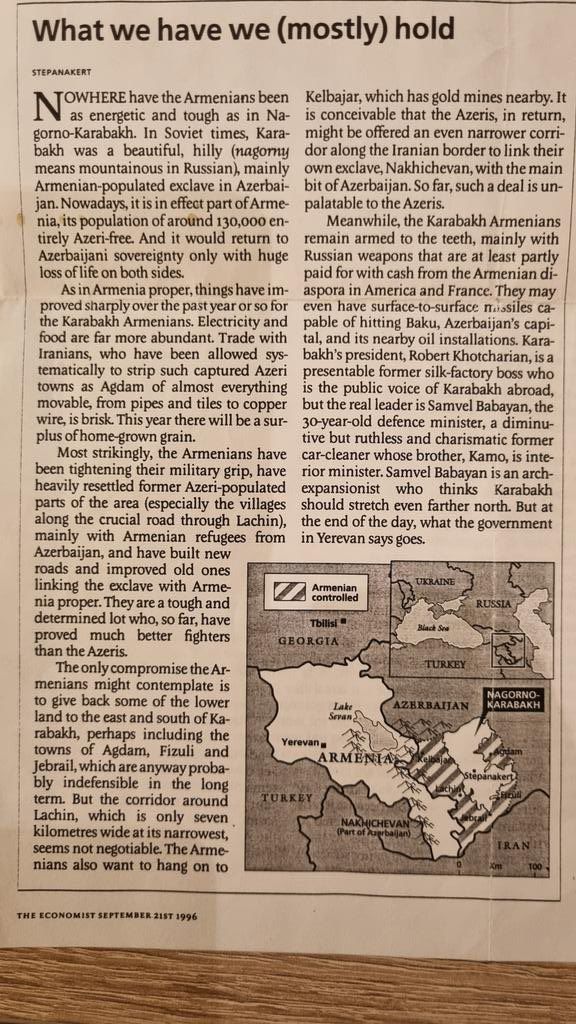 It should be mentioned that the Economist is not the only Western media that manipulates realities. For example, German DW has taken an interview with an "innocent, peace-loving" Armenian old woman. In the interview, the woman says in Russian:
"No, I will never return there because the Azerbaijanis will not give [Karabakh to us]... artsakh will not be given to us, if we don't fight again if the Armenians don't rebel, take it."
However, DW translates it as:
In Deutsche: "Nein, ich glaube Azerbaijan nicht. Ich glaube das nicht, wie sie sagen wir tun es nicht. Ich weiße es noch nicht. Das ist einfach nicht wahr," which translated into English as "No, I don't believe Azerbaijan, I don't believe what they say, that they won't do anything. I don't know that yet. It's simply not true."