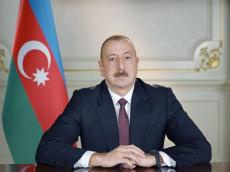 President of the Republic of Azerbaijan Ilham Aliyev has sent a letter to the President of the Federal Republic of Nigeria Asiwaju Bola Ahmed Tinubu in connection with the beginning of his activities as President.
The letter reads:
Dear Mr. President,
I wholeheartedly congratulate you as you assume Presidency of the Federal Republic of Nigeria.
I believe that we will make joint efforts to develop Azerbaijan-Nigeria relations in line with interests of our peoples in an atmosphere of friendship, and to continue our fruitful cooperation from now on within multilateral organizations including the Non-Aligned Movement and Organization of Islamic Cooperation.
I wish you good health, happiness and successes in your future responsible activities for the sake of welfare of the friendly Nigerian people.
Sincerely,
Ilham Aliyev
President of the Republic of Azerbaijan
Baku, 6 June 2023