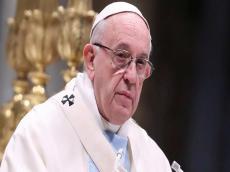 Pope Francis has sent a letter to President of the Republic of Azerbaijan Ilham Aliyev on the occasion of May 28 - Independence Day, Azernews reports.
The letter reads:
His Excellency Mr. Ilham Aliyev, President of the Republic of Azerbaijan
Your Excellency!
On the occasion of the National Day of Azerbaijan - the Independence Day, I extend to you my wishes of well-being and prosperity for your country, and my sincere congratulations on the occasion of the 100th anniversary of your father, His Excellency Heydar Aliyev.
The efforts of genius Heydar Aliyev towards Azerbaijan's development and establishment of diplomatic relations with the Holy See will be forever remembered with a sense of gratitude. May the Almighty God grant Azerbaijan and its people progress, prosperity, good health, and well-being.
Esteemed President, May God grant you every success in your high state activity, and all your fellow citizens abundance.
With deep respect,
Pope Francis