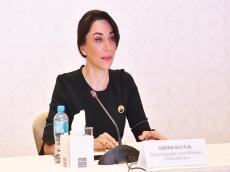 Another mass grave was discovered in Shusha, proving that people had been killed and buried en masse in Azerbaijan's liberated territories during the Armenian occupation, Azernews reports.
According to preliminary information, the remains of at least four people were found in that cemetery.
One of the special highlights is that a mass grave was discovered on the territory of the Shusha prison. This fact has once again confirmed the allegations and witness statements that the Azerbaijanis who were illegally detained in Shusha prison were subjected to terrible torture and inhumane treatment in that prison.
We regret to inform that the number of facts about crimes committed by Armenia in violation of the requirements of international humanitarian law is not affected by this. Thus, the Ombudsman addressed appeals to the world community regarding the previously discovered mass burial sites in Azerbaijan's liberated territories and prepared a separate report on the results of on-site investigations conducted in the graves found in Edilli village of Khojavend district.
The continuous discovery of mass graves in the liberated territories once again proves the genocide and ethnic cleansing policy carried out by Armenia against Azerbaijanis. At the same time, we would like to emphasize that Armenia's failure to provide any information about the fate of nearly four thousand Azerbaijanis who disappeared during the First Karabakh War has been causing the family members of those persons to suffer deeply for many years. The Armenian side has evaded its responsibility in this matter as well and avoided providing information about mass burial sites.
As the Azerbaijani Ombudswoman, I once again call on the world community to take necessary measures against Armenia in connection with such cases, which prove a gross violation of international legal norms, human rights, and freedoms, and to provide support in obtaining information about the fate of our missing compatriots.