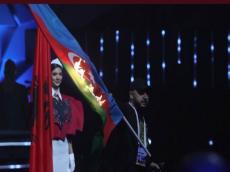 Aram Nikolyan, an Armenian designer and stylist, who committed a provocative act at yesterday's opening ceremony of the European Weightlifting Championship in Yerevan by burning the Azerbaijani flag, is, in fact, close to Armenian PM Nikol Pashinyan's family.
Anna Hakobyan, Pashinyan's wife, has been repeatedly seen shopping at the Nikolyan's boutique. Apparently, this is why Aram Nikolyan served as the chief stylist of Public Television of Armenia.
Thus, a question arises, can this attack be a preplanned provocation? It is obvious that Armenia could go all the way for everybody to forget about the footage of the torture of an Azerbaijani soldier in Armenia.
Azerbaijan will by no means forget either the cruel treatment of its soldier or the blasphemous attitude towards its national flag.