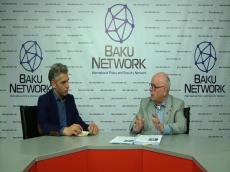 By Azernews 
Unfortunately, European parliamentarians are big fans of Armenia; they always blame Azerbaijan and never talk about Armenia's atrocities, the Dutch writer and author of a book about the war and genocide in Karabakh Henri Van Rens said in an interview with Azernews, speaking of Armenian vandalism in the past century.
"It was about two years ago when I visited Karabakh for the first time with a group of journalists from all over the world. When I saw these ruins, I thought that it was impossible that people could be capable of the horrors that the Armenians committed in Karabakh. I decided that a book should be written about it because there is too little information in my country and in Europe as a whole about Karabakh and Azerbaijan," he said.
As regards the time to complete his book, Henri said he is in search of more evidences and facts about Armenian atrocities, in order to bring the truth to the world community about the Karabakh events.
"I will visit Aghdam again soon to gather more information. I also mentioned the work of Azerbaijan's Mine Action Agency, which is extremely complex and difficult, in my book. I hope that I will be able to transfer to the Azerbaijani people the income that I will receive from my book to contribute to the process of reconstruction in Karabakh," said Van Rens.
The writer noted that he plans to visit Azerbaijan in the fall too in order to present his book.