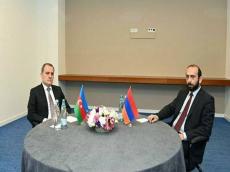 Azerbaijan in its post-war statements has repeatedly voiced readiness for the normalization process with Armenia, and Armenian Foreign Minister Ararat Mirzoyan's recent remark that Baku sent a package of proposals once again proves how loyal the government is restoring peace in the war-torn South Caucasus.
Armenia has received Azerbaijan's next proposals on a peace treaty and is currently evaluating them, the Armenian foreign minister admitted.
Underscoring that the work on the proposals is underway, Mirzoyan said that the two countries' top diplomats were supposed to meet in Moscow with Russia's mediation though the meeting was postponed "due to the blockage of the Lachin corridor".
However, Ararat Mirzoyan would better find persuasive excuses as Azerbaijan has proved times and times again that there is no such thing as the "blockade' on the Lachin road. Over 2,000 vehicles have so far passed through the picketing zone with daily footage serving as proof of this.
Moreover, the Armenian foreign minister's claim that his country is determined to sign a peace treaty does not seem persuasive amid Armenia's last-minute cancellation of the long-awaited trilateral meeting in Moscow scheduled for December 23, 2022.
Meanwhile, EU Special Representative for the South Caucasus Toivo Klaar said that the European Union supports Tbilisi's desire to take on the role of a bridge in the negotiations between Baku and Yerevan.
"It is very important that the three countries of the South Caucasus work together and contribute to peace, and here the role of Georgia as a bridge between Armenia and Azerbaijan is very important," Klaar told Georgia's First Channel.
During Davos Economic Forum, Azerbaijani President Ilham Aliyev noted that Yerevan had rejected a proposal to create a new trilateral format with the participation of the three Caucasus states.
"Our proposal was to organize a meeting of the leaders of the three countries in Georgia, after all, Georgia is the venue where neighbors traditionally meet. However, Armenia is not ready for this," President Aliyev highlighted.
As other platforms are being considered for the negotiations, Russia is not ready to give up its role in the region yet.
Russia's Deputy Foreign Minister Sergei Ryabko said that the arrangements for a meeting between the foreign ministers of the three states are underway.
"We are not abandoning this idea. We want to make the most of the resources we have in terms of providing platforms and a format for further movement as part of the existing agreements toward stabilization," he said.
The Azerbaijani and Armenian top officials last met in Washington under the aegis of US Secretary of State Antony Blinken in November of last year and before that, they met on October 31 in Sochi on the margins of the Aliyev-Pashinyan-Putin meeting.
Another meeting of the two top diplomats was in Astana to negotiate a draft peace treaty under the aegis of Russian Foreign Minister Sergei Lavrov on October 14.