"The opinions that, the Interior Troops have been subordinated to the Ministry of Emergencies are not true."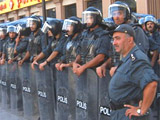 "According to the regulations, the Interior Troops is a military body," head of the press service of Interior Troops, lieutenant-colonel Bakhtiyar Abdullayev told APA while commenting on the false information of the press on subordination of Interior Troops to the Ministry of Emergencies.
According to B.Abdullayev, it is impossible to charge any non-military organization with the duties and functions of the Interior Troops. The press service of the Interior Ministry also confirmed that, the Interior Troops haven't been subordinated the Ministry of Emergencies and the information on any dissatisfaction is groundless, some press organs have written today that, the Interior Troops have been subordinate to the ME and it caused dissatisfactions.
It should be noted that, the Ministry of Emergencies has been established on the basis of Civil Defense Office of Defense Ministry, State Fire Safety Office of Interior Ministry, State Water Rescue Service, Joint Directorship of Objects under Construction of State Building and Architecture Committee, State Control on Industrial Safety and Mining Control Committee and Committee of Material Reserves at Cabinet of Ministers. The Ministry was established by the abolishment of the later two Committees and the rest of them were subordinated to the ME.