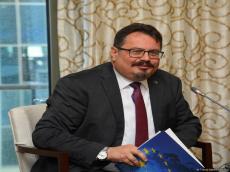 The EU and Azerbaijan are discussing a new partnership agreement that will expand cooperation in various sectors, including economic diversification, investment, and trade, EU Ambassador Peter Mikhalko said.
He made the remarks in connection with the 15th anniversary of the establishment of the EU Delegation in Azerbaijan.
Earlier, Mikhalko stated that the partnership agreement between the EU and Azerbaijan, which will be signed soon, will expand cooperation in various sectors.
Noting that the EU continues to work on strengthening cooperation with Azerbaijan, the ambassador brought attention to the delegation's tireless work in this aspect since its opening for the benefit of the people.
In the meantime, at the meeting of the EU Foreign Ministers of Foreign Affairs, the EU decided to establish a civilian European Union Mission in Armenia (EUMA) under the Common Security and Defence Policy (CSDP) on the Azerbaijan-Armenia border.
According to the decision, the goal of the mission is to promote stability in the border areas of Armenia, build confidence on the ground, and ensure an environment conducive to EU-backed normalization efforts between Armenia and Azerbaijan.
EUMA will have an initial mandate of two years and its Operational Headquarters will be in Armenia. The Civilian Operation Commander will be Stefano Tomat, EEAS Managing Director of the Civilian Planning and Conduct Capability (CPCC). A head of mission leading operations on the ground will be appointed in the near future.
The EU and Azerbaijan cooperate in different sectors of the economy.
Azerbaijan prioritizes equal and mutually beneficial cooperation with the European Union. In 2021, Azerbaijan and the EU had a trade turnover of $15.2 billion. At the same time, from 2012 to 2021, the EU invested more than $21.5 billion in Azerbaijan's economy.
As part of its economic investment plan, the European Union (EU) has provided Azerbaijan with a €2 billion financial package.