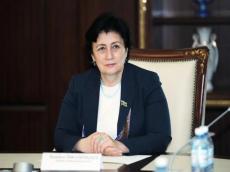 Fatima Hasanova


On January 23, the Milli Majlis (Parliament) standing commission on Labor and Social Policy held a meeting to discuss the retirement age and the salaries of doctors and teachers.
Government MP Malahat Ibrahimqizi opined that layoffs are artificial, emphasizing that the reduction of jobs is the most sensitive issue today.
"Under the plan, I would like to ask that we receive at least a list from state institutions and relevant ministries. How many employees were laid off in the past year? If earlier there was a problem of unemployment, today we are faced with complaints about layoffs. These are artificial reductions. A person who received an honorary award or a letter of gratitude was fired only because a month later, a new director was appointed. The reason for this is that 'I don't want to work with you'. Let's hold public hearings or discussions with the relevant institutions about the problems of the dismissed," she stated.
The parliamentarian added that teachers and doctors who have reached the age of 65 are automatically made redundant.
"However, in Europe, doctors are kept until the age of 70. Where should they work after they reach 65 years? In Azerbaijan, a doctor receives a pension of AZN320. How to live with it? I propose to provide retired teachers and medical workers with jobs in those regions where they are needed," she added.
Committee Chairman Musa Guliyev reacted to Malahat Ibrahimqizi's speech and said that he was against age restrictions.
"If a person is a professional in his field, he can continue his work and no one can hinder him. We may also raise this issue at the labor relations hearings scheduled for the spring session," Guliyev said.